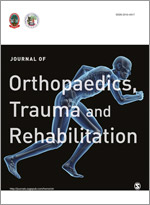 Open Access
This journal does not charge an article processing charge (APC)
Journal of Orthopaedics, Trauma and Rehabilitation (JOTR) is a peer-reviewed open access journal that focuses on the latest trends and advances in orthopaedics, trauma, orthopaedic rehabilitation and related knowledge from all countries. Please see the Aims and Scope tab for further information.
This journal is the official publication of Hong Kong Orthopaedic Association (HKOA) and the Hong Kong College of Orthopaedic Surgeons (HKCOS).
This journal is a member of the Committee on Publication Ethics (COPE).
Этот журнал является членом Комитета по этике публикаций (COPE) .


spin
Open Access
Цели и задачи
Миссия журнала «Хирургия позвоночника» – развитие потенциала российской науки,  объединение усилий различных категорий исследователей, создание и поддержка единого пространства научной коммуникации в области хирургии позвоночника и смежных дисциплин.
В основу политики журнала положены принципы открытости, доступности, междисциплинарного подхода, позволяющие представлять научной общественности итоги изысканий в фундаментальной и прикладной науке, которые объединены одной целью – решением актуальных проблем вертебрологии.



==============================
AAOS Now Top Stories – AAOS
registration

Healio Orthopedics
registration

Healio Rheumatology
registration


registration

registration