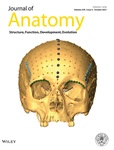 Journal of Anatomy publishes original papers, invited review articles and book reviews. Its main focus is to understand anatomy through an analysis of structure, function, development and evolution. Priority will be given to studies of that clearly articulate their relevance to the anatomical community. Focal areas include: experimental studies, contributions based on molecular and cell biology and on the application of modern imaging techniques and papers with novel methods or synthetic perspective on an anatomical system. Studies that are essentially descriptive anatomy are appropriate if they communicate clearly a broader functional or evolutionary significance. Articles covering bioinformatics and other topics that clarify or provide tools for functional anatomical understanding will also be sympathetically considered.

The American Journal of Physical Anthropology (AJPA) is the official journal of the American Association of Biological Anthropologists (AABA). The Journal is published monthly in three quarterly volumes, of four issues each. In addition, two supplements appear on an annual basis, the Yearbook of Physical Anthropology, which publishes major review articles, and the Annual Meeting Issue, containing the Scientific Program of the Annual Meeting of the American Association of Biological Anthropologists and abstracts of posters and podium presentations. The Yearbook of Physical Anthropology has its own editor, appointed by the Association, and is handled independently of the AJPA. As measured by impact factor, the AJPA is among the top journals listed in the anthropology category by the Social Science Citation Index. The reputation of the AJPA as the leading publication in biological anthropology is built on its century-long record of publishing high quality scientific articles in a wide range of topics.

Evolutionary Anthropology is an authoritative review journal that focuses on issues of current interest in biological anthropology, paleoanthropology, archaeology, functional morphology, social biology, and bone biology—including dentition and osteology—as well as human biology, genetics, and ecology. In addition to lively, well-illustrated articles reviewing contemporary research efforts, this journal also publishes general news of relevant developments in the scientific, social, or political arenas. Reviews of noteworthy new books are also included, as are letters to the editor and listings of various conferences. The journal provides a valuable source of current information for classroom teaching and research activities in evolutionary anthropology.

The American Journal of Human Biology is the Official Journal of the Human Biology Association.
The American Journal of Human Biology is a bimonthly, peer-reviewed, internationally circulated journal that publishes reports of original research, theoretical articles and timely reviews, and brief communications in the interdisciplinary field of human biology. As the official journal of the Human Biology Association, the Journal also publishes abstracts of research presented at its annual scientific meeting and book reviews relevant to the field.

The aim of the International Journal of Osteoarchaeology is to provide a forum for the publication of papers dealing with all aspects of the study of human and animal bones from archaeological contexts. The journal will publish original research papers, short reports and commentaries dealing with human or animal bone research from all areas of the world. All papers are subject to rigorous peer review.

Clinical Anatomy is the Official Journal of the American Association of Clinical Anatomists and the British Association of Clinical Anatomists. The goal of Clinical Anatomy is to provide a medium for the exchange of current information between anatomists and clinicians. This journal embraces anatomy in all its aspects as applied to medical practice. Furthermore, the journal assists physicians and other health care providers in keeping abreast of new methodologies for patient management and informs educators of new developments in clinical anatomy and teaching techniques. Clinical Anatomy publishes original and review articles of scientific, clinical, and educational interest. Papers covering the application of anatomic principles to the solution of clinical problems and/or the application of clinical observations to expand anatomic knowledge are welcomed.

The Anatomical Record: Advances in Integrative Anatomy and Evolutionary Biology, an official publication of the American Association for Anatomy, publishes new discoveries in the morphological aspects of molecular, cellular, systems, and evolutionary biology. The journal focuses on major new findings in the anatomical consequences of gene disruption, activation, or over expression upon cell, tissue, or organ architecture and also recognizes the importance of descriptive studies in contemporary research, particularly when framed in the context of experimental models or questions.


Anatomical Sciences Education is an official publication of the American Association for Anatomy. The aim of this journal is to provide an international forum for the exchange of ideas, opinions, innovations and research on topics related to education in the anatomical sciences of gross anatomy, embryology, histology, and neurosciences at all levels of anatomical sciences education including, undergraduate, graduate, post-graduate, allied health, medical (both allopathic and osteopathic), and dental.


Published 8 times a year, the International Journal of Surgical Pathology (IJSP) offers original research and observations covering all major organ systems, timely reviews of new techniques and procedures, discussions of controversies in surgical pathology, extraordinary case reports, and intriguing images in pathology. Each issue offers a truly global forum for basic and applied human studies that show important diagnostic and prognostic features of tissue and use standard techniques. IJSP also features diagnostic pearls, ground-breaking investigations from the forefront of molecular surgical pathology as it applies to surgical pathology, highlights pitfalls and possible mistakes, and profiles of tumors and immunomarkers.